Country Nights
Victory House (Epicenter Sports and Entertainment), Friday, Dec 8th 2023 9:30pm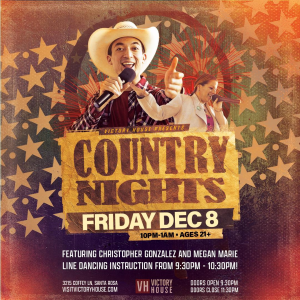 More information about Country Nights tickets
DATE: DECEMBER 8TH
TIME: 10:00PM-1:00AM
DOORS OPEN: 9:30PM
NO ENTRY AFTER 11:30PM
AGES 21+. VALID GOVERNMENT IDS REQUIRED UPON ENTRY.
View our event policies here.

COUNTRY NIGHTS AT VICTORY HOUSE
Join us for a boot-scootin' good time at Country Nights! Get ready to let loose on the biggest dance floor in Santa Rosa with incredible music spun by your DJ's and Line Dance Instructors, Christopher Gonzalez and Megan Marie!
There will be line dancing instruction from 9:30pm to 10:30pm! This is the perfect opportunity to learn some new moves and meet new people before the party turns up. After the first hour Christopher and Megan will continue to dance with everyone and provide a few more lessons throughout the night. Mark your calendars and grab your cowboy hats, it's time to party!

Venue Highlights:
Victory House offers a full bar, including an impressive selection of 24 taps. A late-night food menu will be available. During our live events, our restaurant turns into the biggest dance floor in Santa Rosa.
Ticket Information:
Presale: $10
Regular: $15
Presale tickets are available until the day of the event. Tickets are limited for this event. If we sell out ahead of time, not tickets will be available at the door.
VALID GOVERNMENT ID'S MUST INCLUDE THE FOLLOWING:

Issued by a U.S. government agency (federal, state, county, or city)
Name of the person
Date of birth
Photograph
Physical description (height, weight, hair and eye color)
Currently valid (not expired)

Important Event Policies

*In order to consume alcoholic beverages, you must establish that you are at least 21 years of age. You must have a valid identification card issued by a state or governmental agency containing your photograph, date of birth, height, sex and color of eyes. Poppy Bank Epicenter is unable to accept forms of identification that are expired, cracked, altered, or damaged in any way.

*No bags allowed. Small handbags are allowed but are subjected to search.

*No smoking on the premises, including vaporizers and electronic cigarettes.

*No loitering. Loitering on theses premises or in the adjacent parking areas is strictly prohibited. If you are caught drinking in the parking lot you will be asked to leave the premises.

*No in-and-outs. Once you leave the event you may not re-enter. This prevents unwanted activity from happening in our parking lots.

*No outside food and beverage is allowed inside of Poppy Bank Epicenter.


Victory House
3215 Coffey Ln, Santa Rosa, CA, 95403
info@visitepicenter.com